About Woburn Weather Center
Launched June 1, 2004
Woburn Weather Center is located in Woburn, Massachusetts, U.S.A.
Woburn, Massachusetts, is located about 10 miles northwest of Boston, nearly at the head of the Mystic River Valley and roughly halfway between Lowell and Boston. L-shaped and comprising 13 square miles of land, it is a small city of approximately 37,000 people. We are bordered by the towns of Wilmington on the north, Stoneham and Reading on the east, Winchester on the South, and Burlington and Lexington on the west.

Purpose of this website is to provide local weather observation data live from my private weather station along with other public available information. This is a private non-commercial project intended to provide our community with a free weather information service via the Internet. The reason for the project is that I am a weather nut, and I truly enjoy producing this website.
In addition to the data presented here at pauland.net the Woburn Weather Center Data is submitted to several weather data repositories these include:
The weather data is gathered by a Davis Instruments wireless VANTAGE PRO2 WEATHER STATION. The station measures barometric pressure, temperature, humidity, rainfall, wind speed as well as wind direction,and much more. The main weather station instrumentation consists of a Temperature gauge, rain gauge, and a Humidity sensor. These are mounted on a post in the back yard. A wind anemometer is mounted on the roof of the house. A barometric pressure gauge is inside the house. Here's a photo of the temperature, humidity, and rainfall sensors, along with one of the solar powered transmitters, which transmit the data to the desktop control unit.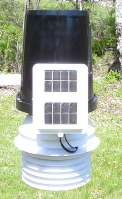 The weather station is connected to a PC which in turn is connected to the internet 24/7 via a Local Area Network , router, and Cable Modem. The P.C. and software are the real heart of a system such as this, they do the bulk of the work. From June 1 , 2004 to December 31 , 2009 the weather station ran on a Pentium-III PC, running Windows 2000 and Virtual Weather Station Software.
On January 1, 2010 the old Pentium-III PC was retired, and the weather station was switched over to operate on new hardware and software. Currently it is running on a SheevaPlug plug computer , running the Debian Linux Operating System , and WVIEW Weather Station Software.


PLUG COMPUTER with a IPHONE to show scale.

A plug computer is a small form factor server for use in the home. It is a lower cost and lower power alternative to a PC-based home server. In effect, a plug computer is a network appliance that is fully enclosed in small package which measures 4.3 Inches (L) X 2.7 Inches (W) X 1.9 Inches (H).The SHEEVAPLUG has a 1.2Ghz processor, 512Mb memory,1 USB Port,1 Gigabit Ethernet Port, and 1 SD Card slot. It has a amazingly low power consumption of between 3 and 7 watts depending on load. Miscellaneous additional hardware for the server set up consists of a USB to Serial Port Adapter, 4 Port USB HUB , and a 4 Gig SDHC Card. Total hardware cost for the server including the PLUG and the miscellaneous hardware was about $150.
The PLUG is a proving itself to be a real work horse, it's simple amazing how much work this mini server does day in and day out, with scarcely a problem or complaint. The hardware and software are proving to be extremely reliable and robust. The PLUG runs Debian Linux as the operating system and, WVIEW weather station software. Along with running the Weather Station Software, the PLUG also provides several services for the Local Area Network including, Print Server, NTP Time Server, and it acts as a Network Attached Storage Device providing 1 terabyte of storage via a attached external usb drive. With all that the PLUG provides for my Local Area Network I feel that it offers a tremendous bang for the buck.
WVIEW is released under GNU GENERAL PUBLIC LICENSE Version 2, It's primary Author is Mark Teel, it is full featured,extremely reliable,and resource friendly. The software features:
24x7x365 reliability.
Fast image and HTML/XML file generation.
Non-GUI, headless, lightweight (size and resources).
Embeddable - can be deployed on low-power embedded systems such as the Linksys NSLU2,and the Sheevaplug.
Multi-Lingual - HTML/XML templates, labels and text.
US (Imperial) or Metric Units - can be easily configured for metric or US units of measure.
SQLite Archive Storage - archive data is stored in an SQLite3 relational database.
Remote Upload - web pages and images can be transferred to a remote web server via an ftp or secure ssh process included with wview.
Alarms - the wview alarm daemon wvalarmd can be enabled to deliver current conditions to TCP socket clients as a near real-time data feed engine. wvalarmd can also be configured to function as a weather data alarm generator to user specified scripts or binaries.
CWOP - can be configured to submit data to CWOP.
Wunderground - can be configured to submit data to Wunderground.
WeatherForYou - can be configured to submit data to WeatherForYou.
Awekas - can be configured to submit data to Awekas.
RSS Feeds - processes XML template files and includes a default weather data RSS feed template.
About This Website
This site is a template design by CarterLake.org with PHP conversion by Saratoga-Weather.org.
Special thanks go to Kevin Reed at TNET Weather for his work on the original Carterlake templates, and his design for the common website PHP management.
Special thanks to Mike Challis of Long Beach WA for his wind-rose generator, Theme Switcher and CSS styling help with these templates.
Special thanks go to Ken True of Saratoga-Weather.org for the AJAX conditions display, dashboard and integration of the TNET Weather common PHP site design for this site.
Template is originally based on Designs by Haran.
This template is XHTML 1.0 compliant. Validate the XHTML and CSS of this page.